20th Jan 2010
Wednesday // 10pm // 3 years ago
formspring.me
Ask me anything http://formspring.me/Princessballet
23rd Dec 2009
Wednesday // 7pm // 3 years ago
Pointe Shoes
So I thought I would dedicate a post to pointe shoes.
Here is the anatomy of the pointe shoe-
The main vocabulary to know are-
Platform- the actually toe part of the shoe. This is the area of the shoe that the dancer will actually stand on.
Toe box- the hard part of the pointe shoe to support the dancers toes.
Vamp- the length from the drawstring to the platform.
Drawstring- the string that when cinched tightens the shoe around the dancers foot.
Shank- the hard sole of the shoe that supports the dancer's arch.
~When will I go en pointe?
This is a question mannny dancers ask. Unfortunatley, there is no real answer. The average age for going en pointe is 10-14. But it all depends on the specific teacher and dancer. Teachers observe their students and decide when they think the student should get their pointe shoes.
~Does it hurt?
This is a tough question to answer. No, it will no feel great to be standing on your toes dancing around. But with the right pointe shoes and proper padding, pointe actually isn't that painful, at least for me.
~OMG I just got my pointe shoes! Im going to go dance in them right now!! Right?
NOOOO. Even though it can be tempting, you really shouldn't try dancing at home until you have had a few classes because you risk hurting yourself.
Breaking them in-
Many dancers "break in" their pointe shoes. They are basically trying to take some of the stiffness out of them and get the fit closer to their actual foot. There are various methods of break them in. Hitting your shoes against hard objects, smashing them in doors, wetting the toe box, ripping parts out and "3/4-ing" them are some of the common methods. But these shorten the life of your shoes so many dancers just deal with the pain until the shoes are broken in.
Padding-
There are many different kinds of padding that dancers wear.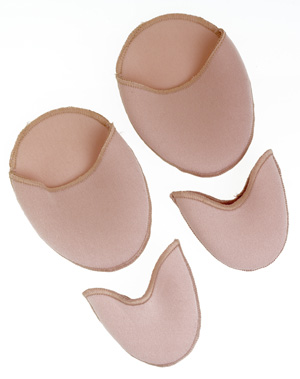 These are called Ouch Pouches. I use these in the Pro Pad version.
 These are Gel Pads.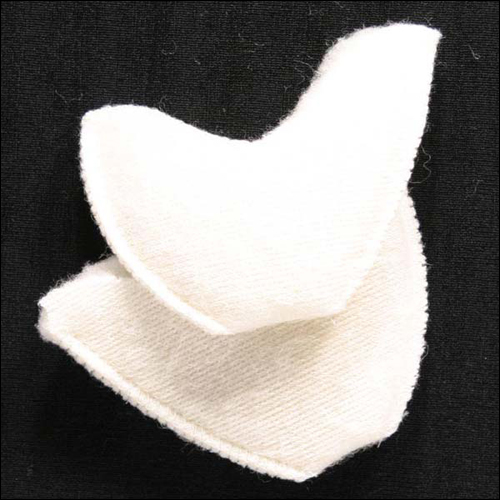 And these are lambs wool pads.
There are more kinds but I just picked the most common type.
Dancers will often wrap tape around their toes to prevent blisters.
Lifetime-
The lifetime of your shoes depends on how hard you use them. For professional dancers, they can last as little as one performance. For beginners they can last as long as one year.
Brands-
The main brands of shoes are- Grishko, Capezio, Russian Pointe, and Bloch. But there are more kinds.
I wear Grishko 2007 shoes in size 6 XXX. They look like this-
Please comment, ask questions, or anything.
More soon-
Abby
19th Dec 2009
Saturday // 7pm // 3 years ago
Some basic ballet moves
Here are some basic moves that you practice-
1. Plié-
Pliés can be done in all 5 positions. Here is an example of a demi plié in first position-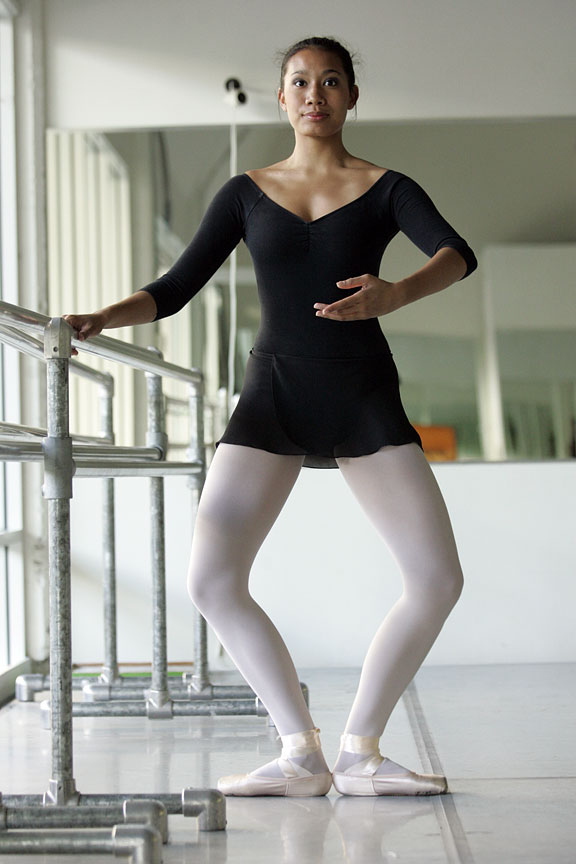 And a grande plié-
. Make sure to keep your hips right under you and your stomach tucked in. Also push your heels forward, this creates excellent form.
2. Tendu-
 Here is an example of a tendu to the front. You should do tendus to the front, to the side, and to the back. This develops all muscles. As you practice, start in first position, and slowly push one foot out, pressing it into the floor and leading with your big toe. On the side, slowly extended your foot into its full pointe. To the back, lead with your pinkie toe, again pressing into the floor.
3. Rond de jombe- Getting the technique perfect on these can be challenging but they are amazing for working turnout, hip range, and many other things.
 This type of rond de jombe is called en dedans. The other type is called en dehors, basically the type above, just reverse the direction of your leg. In both types, make sure to go through first. These should be done slowly and keep your turnout. Keep your hips underneath you and your stomach inside.
These are the best 3 moves to practice. Of course there are many different moves but these are the best to start with. I will answer any questions about any of them that you make have:)
~Abby
19th Dec 2009
Saturday // 7pm // 3 years ago
Splits
In this post I'm going to teach you how to get into your splits faster, technique, and all sorts of stuff:)
First, the different kinds of splits-
1. The Center, or Straddle, split
2. The Front split (done with right or left foot in front)
3. The Oversplit (can be done with front or side splits)
This one is a little bit intense but still-
Alright now onto the info-
The first thing you need to do is stretch every day. Many people make excuses but in order to do the splits you have to stretch every day. Otherwise the flexibility you gain each day will be lost.
I will give you some ideas for stretches.
1. The straddle stretch- this is one of the classic split stretches, it mostly helps with the center splits. But it's great for everything.
  Basically you want to spread your legs as wide as you can, lean to each side, and then lean to the middle, trying to completely lay down. Hold each stretch for about 15 seconds. Just sitting in this stretch will do amazing wonders for your turn out. I read in this position, watch tv, just about anything.
2. The Lunge- This is a great stretch for getting your splits all the way down. But it's also an excellent warm up before you go onstage.
 You wanna take a big step and go all the way down. Make sure to put one hand on each side, keeping your hips squared, and your bent leg straight in front of you. Press it down for about 10 seconds, then come up for about 15 seconds and repeat about 5 times on each leg.
3. The single leg stretch- I love this stretch! It feels so good to me.
 Make sure you lay flat on your back. Any arch in your back will ruin it. Also your knees must be straight. Hold it for about 1 minute at a time, switch legs, and then start all over. Basically do this for one minute twice on each foot. If you have two people, have the other person press your leg down.
4. Once you get all the way on any of your three splits, try doing over splits. Prop your front leg up on something (book, stair, pillow, crate) and go down into your splits. DO NOT force it, just go down till its comfortable. Hold for about 30 seconds.
Now here's some tips-
1. Keep your toes pointed. Though this won't actually help your splits, but learning good technique is VITAL.
2. Don't force yourself. Only go down as far as you can, and then push it a tiney bit further. If you are in like crying pain, it's too far. You don't want to injure yourself.
3. When in the front splits, keep one hand on each side of your leg.
Ok so I've got all my splits, what now?
1. In the front splits, lay down onto your front leg, then lean back, then lean to each side.
2. Oversplits!
I hope I helped some!
More to come soon~Abby
19th Dec 2009
Saturday // 6pm // 3 years ago
I'm so excited!
I'm going with a bunch of people on Monday to get our pointe shoes! I might record one of those audio things from the trip and post it on here.
I'm gonna post a bunch of stuff over the next few days so look foward to that:) I'm also gonna post some how-to thingys that I will write on things like doing the splits, getting full grande jete's and stuff like that.
Peace!
~Abby
18th Dec 2009
Friday // 8pm // 3 years ago
"Dance with your heart and your feet will follow."
18th Dec 2009
Friday // 8pm // 3 years ago
18th Dec 2009
Friday // 8pm // 3 years ago
Hey People!
Hey! I'm Abby, this is my first post.
I'm a ballerina and I love what I do. I also LOVE music. My favorite artists are- FlyLeaf, 3oh!3, Trans Siberian Orchestra, Jason DeRulo, oh theres so many I just cant think right now:)
Right now I'm obsessed with the songs "Again" by FlyLeaf and "Whatcha Say" by Jason DeRulo. I love Whatcha say becuase I can do fouettes, a ballet move, to it.
I'm gonna have to post some videos of ballet moves. But they probably won't be of me becuase I rarely tape myself. I always forget.
So I'm gonna be posting about ballet and the rest of my life too. I do actually have a life outside of ballet lol!
Anyway peace out for now, follow me!
~Abby